Previous events
Crosspoint Church, Niceville, FL
THE STORY:
Go to the Mountain was written a few years ago with my friend Jon Vezner. Little did I know the true impact these words would have on me just a few short years later.  
I love the mountains. Especially the Smoky Mountains. We took vacations there as a child and I have very fond memories of times in Gatlinburg with my parents. My Dad especially loved the Smokies… and about a year before he passed away we got the opportunity to take him up there one more time. My in-laws, Ron and Jan Waldron had rented a cabin near Pigeon Forge for Thanksgiving, so all of MIke's family drove down from Michigan and we met them there for the week. I think there was 12 or 13 of us in the cabin and Daddy was loved on and spoiled for a few days. It was his last trip on this earth and it was a great one.  Here is a pic we snapped of him up at Newfound Gap.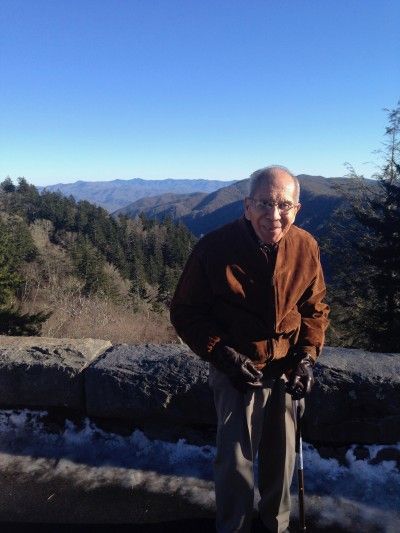 After my Dad passed away, we had a little inheritance money that we wanted to invest. We decided to try and buy some rental property in Nashville, but were having no luck finding anything in Nashville.  I was having a lot of trouble shaking my grief and depression of losing my Dad, so Mike suggested we rent a cabin with some friends in G'burg for the weekend, and maybe do a little songwriting up there.  So we drove up there and met our friends Rob and Lara Harris, (that was the weekend Rob and I started writing "Abba's Child"), and Ron and Cindy Melcher. We were all sitting around the cabin and started talking about our search for rental property in Nashville. Suddenly Cindy chimes in with, "Hey, there's a cabin for sale right down the road. Why don't you buy that?".  We hadn't even considered doing something like that but I was very intrigued. After looking it up online and seeing that the price was indeed right in the ballpark of what we had been looking to spend, we walked down the road to see the cabin. I swear it was love at first sight. It captured my heart immediately. It was at the very top of this mountain, with beautiful views of Mt. LeConte.  We called the realtor listed on the sign right at that moment and asked if we could see it. Unfortunately someone was in it that weekend so no showings, but we made an appointment to come back two weeks later. 
When we drove back up there for the showing, our realtor had also gotten 8 more cabins for us to view. We went from cabin to cabin looking at beautiful places, each having it's own charm.  The last cabin she took us to see was the one we had found on the previous trip. When I saw it again my heart I loved it just as much as the first time I saw it and I swear, when I walked through the front door, I just felt like I was HOME. I honestly can't describe the feeling.  As I started walking around the cabin, I started noticing little signs on the walls with sayings like, "Family is everything", and "This cabin was blessed from above", and something inside me just knew that Dad brought us here.  I walked out on the deck - overlooking those amazing mountains and I felt peace for the first time since Dad had passed. "This is the one", I said to Mike. "Are you sure?", he asked. "Oh YES, I am SO sure.". 
I'll spare you all the details, but I can't begin to describe how smoothly and easily the negotiations and process of buying the cabin were. I kept saying how it was obviously meant to be. This cabin was just dropped in our laps out of the blue and it truly felt like a gift from God.. and my parents too.  So, we named it "Heaven's Gift".  We bought HG on Jan. 4th, 2016 and those first few days in the cabin felt like a dream. Being in the mountains was salve for my wounded soul. I feel close to God (and my parents) in a way I can't describe up there.  I had dreams of many songs being written up there.. and family gatherings… and special moments with friends. It would be a legacy to hand down to my children from their grandparents.  I was attached in a BIG way to this place.  But I was about to get a big lesson in the futility of attachment to things in this world. That lesson came in the form of the Gatlinburg Fires on Nov. 28th, 2016.
If you are interested in reading about that horrible experience, you can read about that in my blog: Pt 1: The kids escape HERE… and Pt. 2: Mike's discovery HERE.  But for now, to say I was traumatized would be an understatement. I was inconsolable for days. How could God give me such a beautiful place of respite for my soul and then rip it away so violently only 11 months later?  It just didn't make sense to me. But it was a stark reminder to me that there are many things that don't make sense in this world, and me losing my 2nd home was probably not in the top million of unjust things happening.  Still, I was pretty crushed.
One week after the fire, Mike drove me up to see the property. My friends were concerned that I wasn't ready to see it, but I knew i needed to go. Mike had already made one trip there, so he knew the devastation I was about to see. As we drove into our beloved mountain town, the tears flew freely as we drove through all the damage done by the fires.  I'll cover more about that in the story for "Out of the Ashes", but it was horrible to see what had happened. When nature roars, no man can stop it. The damage was powerful to see.
When we finally made it to the top of our mountain, I definitely cried many tears as I stood where our cabin used to be, only the walls of the basement remained. I prayed to the Lord up there… I prayed for the souls that were lost…. and for all the people who had lost everything… and I prayed for perspective in it all. I opened my eyes and looked around and I was suddenly taken aback by the beauty all around me. While driving up the mountain, all I could see was the damage the fire had caused, but now I was seeing the beauty of God's work. The fire had taken what man had built, but NOT what God had made!  What I loved about the mountains was STILL THERE.  It wasn't the cabin itself that I loved. It wasn't the cabin that God and my parents had given me, it was THE PLACE. It was that mountain… and it was STILL THERE. 
Now the tears are flowing again, but for a different reason. My place of respite wasn't in the four walls of the cabin… my place of respite is in God. He is my shelter. He is my safe place. And yes, I could feel Him so strongly up there… and that hadn't changed one bit.  
So… Go to the Mountain can be taken literally or metaphorically. The "mountain" is a place… but it is so much more. The "mountain" is also God. I was lucky enough to get my sweet sisters-in-Christ, Carole Ford and Vanessa Connor to sing bgv's with me on this one and their voices lifted this track to a whole 'nother level.  I honestly can't listen to it without crying. But then again… clearly, I'm a "cryer".  LoL  
THE LYRICS: 
GO TO THE MOUNTAIN
Writers: Marcia Ramirez/Jon Vezner
 LIVING IN THIS CITY THERE'S A CONSTANT WALL OF SOUND
AND NO MATTER WHAT I DO, I CAN'T TURN THE VOLUME DOWN
WHEN I'VE FINALLY HAD MY FILL
I LET GO OF MY WILL
AND I SURRENDER
AND I REMEMBER
CH: TO GO TO THE MOUNTAIN 
WHEN I NEED TO FILL MY CUP
GO TO THE MOUNTAIN
AND LET IT LIFT ME UP
WHEN MY HEART IS HEAVY
AND I FEEL LIKE I'M DROWNIN'
I KNOW - TO GO - TO THE MOUNTAIN
THIS WORLD IS GOIN CRAZY FROM THE WEST TO MIDDLE EAST
HATRED'S RUNNING RAMPANT LIKE SOME PLAGUE THAT'S BEEN RELEASED
I GET CAUGHT UP IN THOSE THOUGHTS
I FEAR THAT ALL IS LOST
IT OVERWHELMS
THEN SOMETHING TELLS ME
CH: GO TO THE MOUNTAIN
THAT'S WHERE I'LL FIND SOME PEACE
GO TO THE MOUNTAIN
MY FEARS WILL BE RELEASED
WHEN MY HEART IS HEAVY 
AND MY WORRIES ARE MOUNTING
I KNOW TO GO TO THE MOUNTAIN
BREATHIN' IN THE BEAUTY OF WHAT GOD HAS GIVEN US
THAT'S WHERE I FIND REFUGE FROM THE PAIN
STEP OUT OF THIS WORLD INTO THE SAFE ARMS OF HIS LOVE
AND FOR A MOMENT - THIS WORLD'S NOT SO INSANE
GO TO THE MOUNTAIN —
OH I GO TO THE MOUNTAIN
WHEN MY HEART IS HEAVY AND I FEEL LIKE I'M DROWNIN'
I KNOW - TO GO - TO THE MOUNTAIN
CREDITS:
Drums-Wes Little
Bass-Brian Allen
Acoustic Guitar-Mike Waldron
Electric Guitar-Derek Wells
Keyboards/Strings-Blair Masters
*BGV's-Carole Ford, Vanessa Connor, Marcia
Recorded at Sonic Eden Studio, Nashville, TN