Previous events
Crosspoint Church, Niceville, FL
What is a House Concert?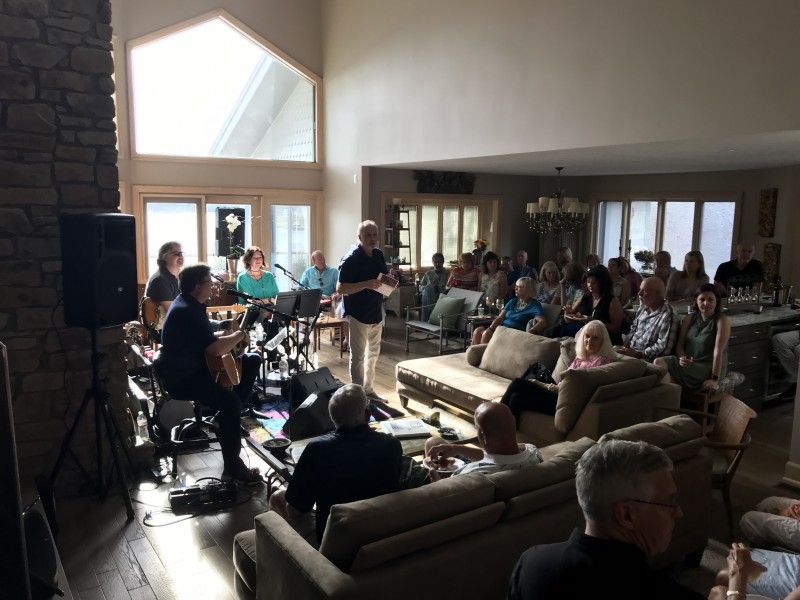 A house concert is a musical concert/performance that is presented in someone's home, apartment, backyard, barn, or any small privately owned space.  The host does not profit from the event. 
It typically consists of 1 - 3 songwriters, performing mainly original songs "in-the-round" style, similar to a show you would see at the world famous Bluebird Cafe in Nashville, TN. It is a unique, interactive concert experience that includes hit songs performed by the songwriters who wrote them, along with "stories behind the songs", how they were inspired, written and recorded.  You'll get an inside look into the writing, recording and touring process that happens in and out of Nashville, along with songs and stories that will make you laugh, cry and leave you inspired! 
House concerts are usually attended by the host's friends, family, co-workers, neighbors etc…. usually around 20-40 people, depending on the size of the room.  
They are usually performed with little to no sound system, so that it is an intimate experience. Hosts can offer light snacks and drinks, but sometimes hosts choose make it more of a "potluck" evening, where everyone brings a dish.  There is a suggested donation (usually between $15 - 20 per person) and that goes to the performers.   
Interested in hosting a house concert?  Here's what you need to know as a potential host:
As a host, you have only 2 -3 responsibilities:
Provide the space:
—- A living room, den, or bonus room usually works best.  Just enough room to set up a few chairs for your guests and also for the performers at one end of the room.  Also, provide a place where the songwriters can set up a table to sell cd's and other merchandise. 
    2.  Invite friends, family, neighbors, co-workers etc… 
—-Most house concerts have between 20-40 people, but depending on the size of the space, there is no real limit to attendance. 
    3.   Provide food/drinks (optional)
—-You can choose to provide light snacks and drinks or leave it up to guests to bring their own.   Some go "potluck" style, while other hosts like to provide a full meal to the guests. There is no rule here and it doesn't have to be fancy!  Whatever you feel would make for a fun and relaxing evening.
House concerts are starting to sweep the nation as a fun and unique evening for music lovers!  Email me at: marciaramirezmusic@gmail.com if you are interested in being a host for one of our concerts!  I am now booking for Fall 2018 and Spring 2019!   We would love to come visit your town soon!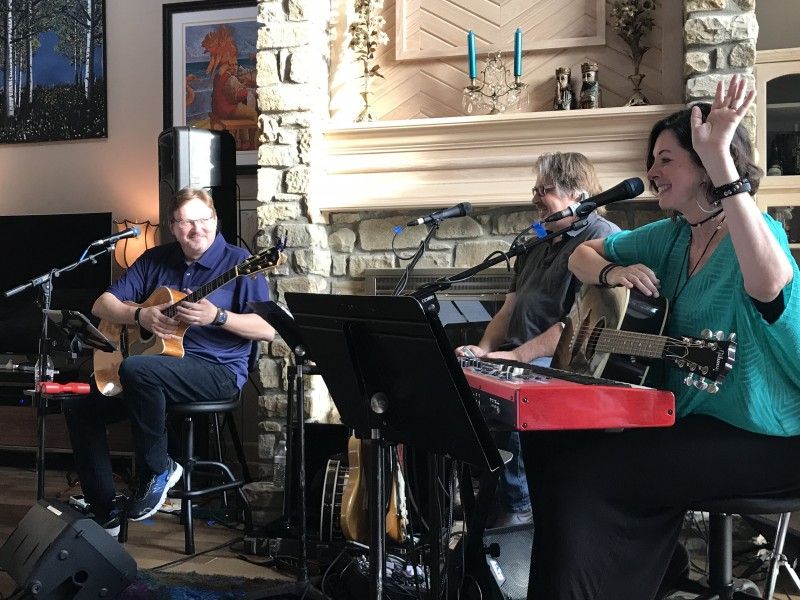 Reviews from previous House Concerts:
"We were thrilled to welcome Marcia, Rob, and Mike into our beloved Song Shed. Our crowd was hungry for real music – and boy, did these three deliver! Even in our friendly atmosphere where the story behind the song is appreciated, these artists took our expectations to another level, pulling the entire room into their personal experiences and blowing us away with their incredible songs, musicianship and talent. From start to finish, they were gracious, professional, and oh-so-entertaining!
It was a rewarding and enchanting night, and we look forward to having them back again soon." 
 Casey & William Penn --Benton, AR 
----------------------------------------------------------
"What a treat to help Co-host a house concert in Central Arkansas for three amazing singer/songwriter/musicians! Marcia Ramirez, Mike Waldron, and Rob Harris put on an amazing two hour event that was up close and personal yet professional in quality. One of my favorite parts was hearing the stories behind the songs. Incredible experience for us all and we can't wait to do it again!"
Karen Shofner - Little Rock, Arkansas
---------------------------------------------------------
"House Concert... what in the world is that? When I first heard about it I had no idea what it was and how wonderful it would be.... we hosted a concert for Marcia Ramirez along with her husband Mike Waldron and Rob Harris. We found out it was the best social event we have ever had on our home! The night was filled with seeing old friends, meeting new ones, and being blessed from beginning to end. The atmosphere was a true fellowship of all who attended. The music was FANTASTIC! Songs took on a whole new meaning as we heard the story behind the lyrics. I hope we can do it again soon!"
Becky Floyd - Nashville, AR
------------------------------------------------------